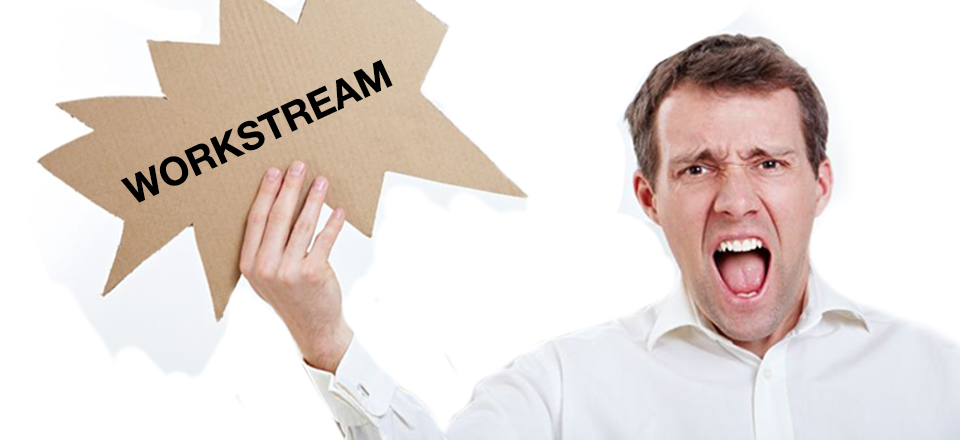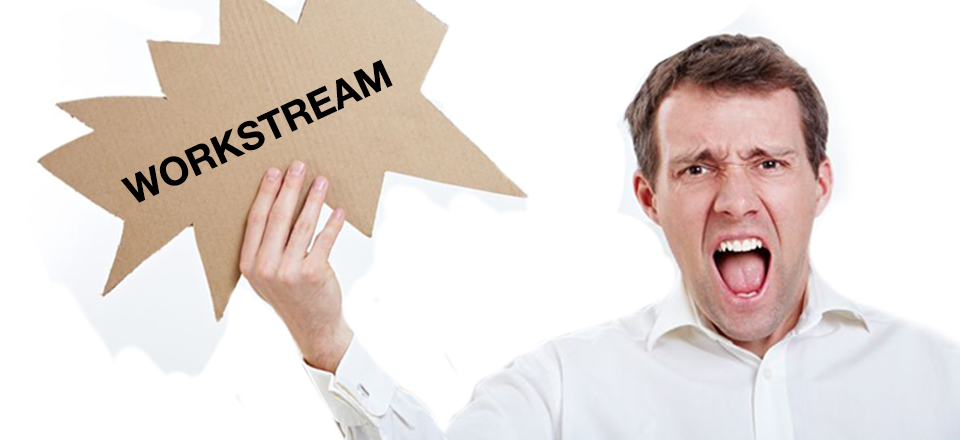 The more you become indoctrinated into the world of business and management consulting, the more you will find yourself incorporating jargon into your communication—it's inevitable, but not necessarily beneficial.
If you are able to remain one of the rare independent consultants who can stick to layman's terms and phrases throughout your career, without jumping on the buzzword bandwagon, I applaud you.
If not though, it will at least pay you to try and use certain consulting buzzwords sparingly or better still, avoid their use completely. I would suggest that "workstream" (or sometimes work stream or work-stream) is one such term.
What's Wrong With Workstreams?
The problem with consulting buzzwords like workstream, is that once they catch on, they often become so popular that consultants throw them around with little regard for what they actually mean—or for whether their clients know what they mean.
The wanton use of a buzzword can be especially frustrating when the term in question has no dictionary definition that can be looked up on the quiet.
Workstream is a typical example of this, which is why word processing software like MS Word insists on placing a squiggly red line under it. Of course this only serves to confuse the issue further, as writers try to defeat the spell-checking function by turning "workstream" into "work stream" or "work-stream."
Workstream: A Term to Use with Care
No amount of spell-check cheating will change the fact that workstream is not a real word, at least not until it is added to the Oxford English Dictionary. Furthermore, if you are a student of a project management doctrine such as PRINCE2, you'll know that the term is not a component of official PM jargon either.
Real word or not, the "workstream" term is undoubtedly going to be with us for a while, which means if you decide to add it to your independent consulting buzzword portfolio, you should always be sure to clarify exactly what you mean by it.
Perhaps the best way to ensure understanding is to include a glossary of your chosen consulting terms in the initial documentation or presentations you deliver to your clients.
This is not merely to guard against a lack of understanding. After all, "workstream" is a term so commonly used nowadays that your client might be very familiar with it, while applying it in a completely different context to yours.
One Consulting Buzzword, Many Meanings
Depending upon who you talk to, a workstream can be:
A sub-program or group of projects within a large business program
A project
A collection of tasks which are related to one another in some way
A flow of departmental activity within a project, such as a "testing workstream" or "change management workstream"
These are only examples of some of the potential uses of the "workstream" term. As you can imagine, if you and your client are not on the same page with relation to its meaning, the scope for embarrassing and perhaps costly misunderstandings is considerable.
If after reading this post you still can't resist including "workstream" as a term within your professional consulting vocabulary, at least heed my words of warning (as tongue-in-cheek as they may be). For your own sake and that of your business credibility, please play it safe and make sure your client's use of the term and your own are completely aligned—before any workstreams get under way.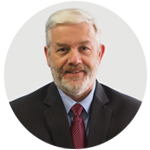 Best Regards,
Rob O'Byrne
Email: robyrne@logisticsbureau.com
Phone: +61 417 417 307