If you've ever been involved in a project with external consultants (in your previous corporate life), you probably noticed that they seem to absolutely love PowerPoint presentations.
---
The truth is, we don't spend hour upon hour making pretty slides for the fun of it or for the love of PowerPoint.
---
It's simply because the ubiquitous slide deck has become something of an essential for sharing information with clients.
5 Reasons you Should Master PowerPoint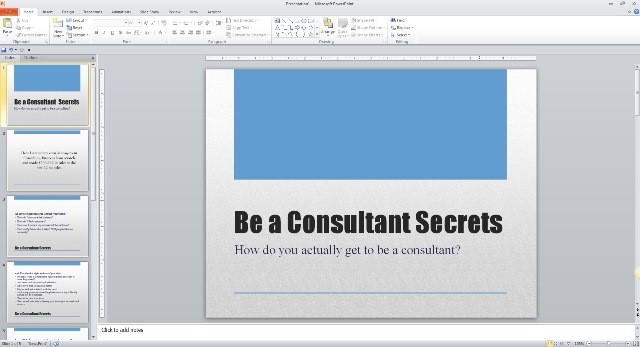 If you're not PowerPoint savvy, I strongly recommend you get yourself skilled-up in its use before you set your stall out as a management consultant. There are a number of very good reasons why you should master PowerPoint—and none of them have anything to do with satisfying a desire for creativity.
Lest you think I'm getting a kickback from Microsoft for promoting its application, here are five solid and practical reasons why, as a management consultant, you should master PowerPoint presentation software:
Succinctness: Delivering a PowerPoint presentation is the best way to consolidate weeks of fact-finding and analysis into something that your customer can easily digest.
Executive Stress: C-Suite executives are always under pressure and their time is at a premium. By summarising key information and data in a presentation, you can give the chiefs all the information they need in a single meeting or workshop, while still allowing time for questions and discussion.
Re-usability: Unlike a detailed written document, managers at your client company can easily take your presentation and use all or part of it to brief their colleagues or subordinates.
Visual Impact: This is linked to all three of the points above. If you master PowerPoint well enough to present charts, diagrams, and graphs, you can provide your clients with easily digestible information, which they can also refer to and re-use when you have moved on to your next project.
Flexibility: PowerPoint presentations can be delivered in a number of ways. You can present information personally in a conference room meeting or remotely during an online or teleconference. You can also turn your slide decks into handouts or send them by email to people unable to attend a meeting.
The Swiss Army Knife of Consulting Communication

PowerPoint (or any presentation software for that matter) is an invaluable communication tool for consultants and their customers. Its flexibility makes it usable in just about any consulting scenario imaginable. If your previous career involved regular presenting with the aid of digital media, you're in a good position. If not, you should master PowerPoint as a priority before you embark on your career as a self-employed management consultant.
Best Regards,
Rob O'Byrne
Email or +61 417 417 307